The Irish Daily Star has kindly agreed to come on board as a sponsor for the bank holiday kickboxing show at the Green Isle Hotel on Sunday, 2 May (doors open 6pm; first fight 7pm).
The Black Panther Kickboxing Club would like to thank Paul Cooke, the managing director of The Irish Daily Star, for agreeing to do so.
We are extremely grateful for their kind gesture, especially in such difficult economic times.
Also, a one-year's membership to Westpark Fitness will be raffled on the night.
Likewise, we are extremely grateful to Westpark Fitness, too.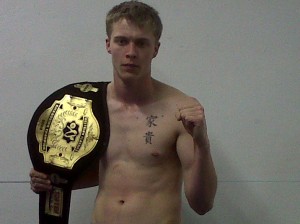 Whereas The Irish Daily Star are supporting us for the very first time, Westpark Fitness have been there for us many times before.
The staff at Westpark also lend their expertise in terms of strength training and dietary advice for our kickboxers.
As ever, our sincere thanks to them.
Pictured is England's Toby Freeman, Richard Kiely's opponent on 2 May at the Green Isle hotel in Dublin.
If you want to see Richard take on Toby, don't delay – tickets for the show are going to be in big demand.