Top marks to Black Panther club member Riyadh Abdelkader, or 'Rio' as he is known to his family and friends, for the magnificent programme he produced for our annual kickboxing show at the Green Isle Hotel on Sunday (2 May).
As programmes go it was top-notch stuff Rio, and everyone at the club would like to thank you for your fine efforts.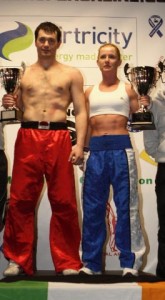 On the night, Rio, 24, was presented with a special merit trophy for his contribution in making the night such a huge success and for his ongoing fight with illness.
Rio works for design and print specialists amarudesign.
Meanwhile, highly-talented youngster Ryan Keegan, who is recovering from an injury and was unfortunately unable to take part in the event, also received a special merit trophy on the night.
Ryan has a truly amazing repertoire of skills and looks destined to go a long way in the sport.
While Ryan was really looking forward to seeing Richard Kiely (pictured left with Rebecca Dillon) in action in the top-of-the-bill bout, the fact that Rebecca won her international contest against Norway's Camilla Johansen in such style more than made up for that.