Reflecting on her fantastic win over Camilla Johansen at the Green Isle Hotel on Sunday (2 May), Rebecca Dillon (pictured below)  said: "I thought Camilla had improved a bit since I last saw her fight, but so have I."
Rebecca, who is fighting in Oslo this Saturday (8 May) as part of an AKAI Irish selection, had Johansen on the canvas in the first round of their four-round international 52kg-contest in Dublin.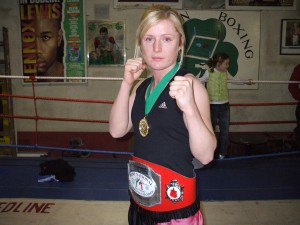 A superbly executed sweep kick followed by a right roundhouse saw her Norwegian opponent hit the canvas as Rebecca showed who was boss right from the start, watched by constituency TDs Charlie O'Connor of Fianna Fail and Sinn Fein's Sean Crowe.
Rebecca told blackpanther.ie: "I thought she [Camilla] was better than the last time I saw her [in Dublin at the AKAI Irish Open at the CityWest Conference Centre in March] – definitely.
"It was noticeable she had improved, but I keep on improving, too. So the fact that Camilla was that bit better didn't make any difference at all to me. I always felt that the fight was still going to go my way, and that's how it turned out."
Rebecca, 26, added: "Camilla caught me with a couple of shots, but with nothing significant, apart from a front-kick in the third round. But it wasn't anything I wasn't able to cope with. The bottom line is you are going to get hit during a fight – it's all part of the territory."
Rebecca was quickly into her stride as she went about putting Johansen to the sword.
She was that bit faster than her Norwegian rival, showing the better reflexes throughout and being that bit quicker off the mark.
Johansen, it seems, is keen on a rematch, but that remains to be seen.
Rebecca, in fact, might even have forced a stoppage at the Green Isle Hotel, but having caught the 22-year-old Norwegian with a cracking right hand that rocked her younger rival, she failed to follow up and punish her further.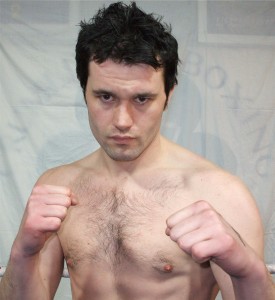 Rebecca acknowledged: "Camilla is well able to take it. She is a very strong girl."
Richard Kiely (pictured right) also makes the trip to Norway with Rebecca this weekend, accompanied by chief instructor Norman Kelly.
While Dillon was delighted with her night's work, Richard didn't get to see any action.
His top-of-the-bill 85kg-contest against Toby Freeman of the Pegasus Aylesbury Club in Buckinghamshire was cancelled after the English fighter felt unwell and was ruled out by the event doctor.
It was a mixed night for the Black Panther club, with John Mongan the club's only other winner – Leon Johnson, Jessica Dillon, Patrik Gapik and Kieran Lee all lost out, but they gave a very good account of themselves all the same.
Norman said: "Obviously it was disappointing that the main fight of the night couldn't take place. But the doctor's decision is final in such instances. We have to abide by the doctor's advice at all times, as these decision are taken in the best interests and safety of the fighters.
"Apart from that, the show went without a hitch. I was really pleased overall."