If you missed our interview on TV3 on Friday (30 April), you can now view it on YouTube by clicking on the following link: http://www.youtube.com/watch?v=slORpbLOYmo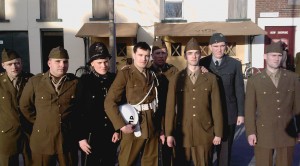 Chief Instructor Norman Kelly (pictured fifth left on the set of the BBC's film adaptation of popular multi-award winning English novel Small Island) was interviewed by TV3's Aidan Cooney.
Also interviewed at TV3's studios in Ballymount, Dublin were Richard Kiely (fourth left), who tops the bill on the 17-bout fightcard at the Green Isle Hotel, Dublin on Sunday, 2 May; women's world champion Rebecca Dillon (blue headgear in TV3 interview); Lindsey Doyle (red headgear), of the Global Kickboxing Club, Ballybrack, Co Dublin; Pat Harding, martial arts instructor Black Panther Kickboxing Club; and Robert Reid, club member.
We would like to express our sincere thanks to Aidan, who did so much to publicise the event for us, and to his colleagues at TV3, especially Victoria and Deric.
Doors open at the Green Isle Hotel at 6pm; first fight is scheduled for 7pm. Tickets are priced €15 in advance, or €20 on the night; children's tickets are €6.