Women's world champion Rebecca Dillon beat her Norwegian opponent Camilla Johansen at the Green Isle Hotel in Dublin on Sunday (2 May), watched by a sell-out crowd that included Fianna Fail TD Charlie O'Connor and Sinn Fein TD Sean Crowe.
Black Panther's Rebecca (pictured below) got the verdict of all three judges.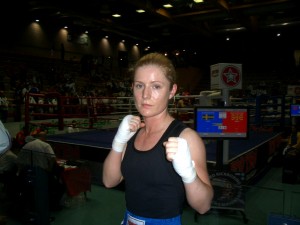 The 26-year-old from Fettercairn in Tallaght stamped her authority from the start and had her opponent, a silver medallist at the 2007 World Kickboxing Championships, down in the first round.
She unsteadied Johansen with a foot sweep, then downed her with a powerful roundhouse kick to the ribs.
That gave Rebecca the platform to go on and win and she kept using her foot sweeps to great effect.
She looked the stronger fighter but Johansen remained dangerous and clipped Rebecca with a kick to the head in the third round of the four-round international contest, despite showing some signs of tiredness.
The top-of-the-bill bout between Black Panther's Richard Kiely and Toby Freeman (pictured below), of the Pegasus Aylesbury Club in Buckinghamshire, didn't take place after the English fighter was ruled out after feeling unwell at the venue.
Kiely did step into the ring – to thank his many fans who had come out to support him.
He said: "Unfortunately, I didn't get to put on a show for you tonight, but it couldn't be helped. But thanks for turning out in such large numbers."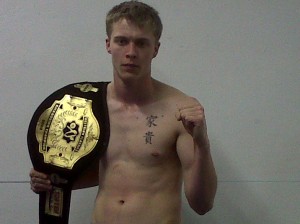 The action got underway at 7.15pm, with Evan Cheevers and Mark McSherry, two nine-year-olds from the Blank Panther club, starting proceedings in a two one-and-a-half minute round demo.
The contest ended in a draw, with both fighters displaying a stunning array of kicks that got the evening off to a great start.
Well done to both Evan and Mark.
Our sincere thanks again to all our event sponsors, especially The Irish Daily Star and Westpark Fitness.
EVENT RESULTS

JUNIOR CLUB
1 Evan Cheevers (Black Panther) v Mark McSherry (Black Panther) 2×1.5 Demo
Result: Draw

2  Jack Savage (Black Panther) v John Cunningham (Black Panther) 2×1.5 Demo
Result: Draw
3 Leon Johnson (Black Panther) v Ryan McCullough (Global Kickboxing Club, Ballybrack) 2×1.5 24kg
Result: Ryan McCullough won on a unanimous points decision
4 Jessica Dillon (Black Panther) v Shannon Byrne (Global Kickboxing Club, Ballybrack) 2×1.5 47kg
Result: Shannon Byrne won – fight stopped first round, Jessica Dillon unable to continue
FULL CONTACT
5 Gavin Cunningham (Dragon Lair) v Marco Rodi (Fusco Kickboxing) 2×2 75kg
Result: Gavin Cunningham won on a unanimous points decision
INTERNATIONAL
6 Rebecca Dillon (Black Panther) v Camilla Johansen (Norway) 4×2 52kg
Result: Rebecca Dillon won on a unanimous points decision
7 Chris Boyne (R Carton) v Eric Rooney (Global Kickboxing Club, Ballybrack) 2×2 80kg
Result: Eric Rooney won on a unanimous points decision
8 John Mongan (Black Panther) v Glenn McFarlane (Bodyshots Gym, Belfast) 2×2 62kg
Result: John Mongan won on a unanimous points decision
9 Edward Duffy (East Wall) v Gerard Malone (Paddy Toland Gym, Derry City) 3×2 68kg
Result: Gerard Malone won on a split decision, 2-1
10 Patrik Gapik (Black Panther) v John Mullally (Global Kickboxing Club, Ballybrack) 2×2 107kg
Result: John Mullally won on a unanimous points decision
11 Robert Byrne (East Wall) v Derek Walker (Paddy Toland Gym, Derry City) 3×2 67kg
Result: Derek Walker won on a split decision

12 Niall O'Donnell (Ennis) v Karl Kelly (Global Kickboxing Club, Ballybrack) 3×2 71kg
Result: Niall O'Donnell won on a unanimous points decision
13 Kieran Lee (Black Panther) v Sean Barrett (Waterford Kickboxing) 3×2 65kg
Result: Sean Barrett won on a unanimous points decision
14 David McGuinness (East Wall) v Billy Kelly (Ennis) 3×2 78kg
Result: Billy Ennis won on a split decision

15 Seamus Geoghegan (Ennis) v Sean O'Neill (Waterford Kickboxing) 3×2 75kg
Result: Sean O'Neill won on a split decision

16 Kevin Doyle (Fusco Kickboxing) v David Armitage (Pegasus Aylesbury) 3×2 72kg Demo
Result: Draw
17 Leanne Carberry (Waterford) v Lindsey Doyle (Global Kickboxing Club, Ballybrack) 3×2 60kg
Result: Lindsey Doyle won on a split decision

INTERNATIONAL
18 Richard Kiely (Black Panther) v Toby Freeman 4×2 85kg
Result: Fight did not take place