Richard Kiely, fresh from his win in a light-contact contest in Norway last weekend, is back in action this Saturday (15 May) when he takes part in a tournament run by Shannon Kickboxing in County Clare.
As usual, it's an 86kg contest for Richard, and the venue is the Oakwood Arms hotel in Shannon, starting time 7pm.
His opponent is Tom Sullivan of the Tralee Kickboxing Club.
Richard (pictured below in action in Norway) had little difficult accounting for his Scandinavian opponent Petter Solberg in Oslo last Saturday (8 May). He ran out an easy winner and got the verdict on a unanimous decision.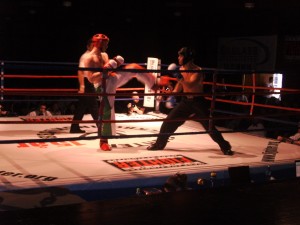 After the Shannon Kickboxing tournament, Richard is back in action on the Ireland v Italy fight card at the Green Isle Hotel on Sunday, 23 May.
Richard's opponent at the Green Isle Hotel is Alan Coffey of the Global Kickboxing Club, Ballybrack. Richard beat Alan at the AKAI Irish Open at the CityWest Conference Centre in March and will be hoping for a similar outcome this time also.
Then he is off to the WAKO World Cup in Rimini from 4-6 June.
Norman said: "I'll see how Richard is at training on Wednesday [12 May], but the plan is for him to fight at the weekend. He has a busy few weeks ahead of him but he is an extremely fit lad."
Meanwhile, Rebecca Dillon, who also had a comfortable victory in Norway last weekend, isn't in action again until 23 May, when she is also involved on the Ireland v Italy fight card.
Then, she, too, is off to Rimini.
While Richard (pictured having his arm raised in victory in Norway) and Rebecca had a relatively easy time of it in Oslo, Black Panther chief instructor Norman Kelly thought it was a very worthwhile trip all the same.
"In terms of the actual fights themselves, Richard and Rebecca weren't stretched," Norman said. "But it's not just about getting them fights. It's about getting them used to going abroad and fighting and weighing in, and all that goes with competing overseas.
"You are out of your own environment, and the experience, as all the experiences do, will stand them in good stead in the future."