The Irish Open website has been updated and is well worth a look.
Results and pictures from this year's event have been added, plus details of next year's schedule at the CityWest Conference Centre in Dublin, which will run from 4-6 March 2011.
And it's planned to add lots more pictures over this weekend. If you fancy a quick peek, click on the following link http://www.irishopenonline.com
Referring to this year's highly successful event in March, Roy Baker, president of AKAI, said: "We had 2152 registrations from 30 countries, an incredible number, something we are very proud of, and with the inspirational feedback we have got from coaches and fighters alike, we believe next year [2011] will be even better.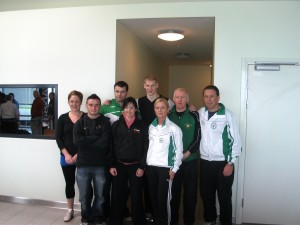 "The event was run over 15 matted 7×7-metre areas and one ring. Each day started on time and finished on time; I think you will agree the new arena and hotel were fantastic.
"We have the date for 2011 fully confirmed at this stage and it will be on 4, 5 and 6 March 2011 in CityWest, Dublin."
Registration will go live in December this year.
Roy added: "Over the weekend we will be loading 2,000 further photos and extensive edited video coverage of all the best action [from the March 2010 event]."
Pictured above is the six-strong AKAI Irish team that competed in Norway on Saturday, 8 May.
Don't forget that our own Richard Kiely (third from left in picture) is in action tomorrow [Saturday, May 15] at an event run by Shannon Kickboxing at the Oakwood Arms hotel; starting time for the event is 7pm.
His opponent in an 86kg contest is Tom Sullivan of the Tralee Kickboxing Club.
All at Black Panther Kickboxing Club wish Richard the very best on his travels to County Clare.