Richard Kiely won again in Shannon tonight  (Saturday, 15 May).
Fighting at the Oakwood Arms hotel in Shannon at an event hosted by Shannon Kickboxing Club, Richard beat Tom Sullivan on a unanimous points' decision in the 86kg contest.
Sullivan, an MMA fighter from the Mike Allen Gym in Tralee, proved a tough nut to crack in the 3×2-minute round bout.
Black Panther chief instructor Norman Kelly, who accompanied Richard to Co Clare, said:  "Richard's opponent [Tom Sullivan] was very strong – he took a lot of shots.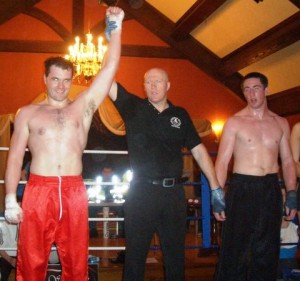 "It was a good fight for Richard, and another good experience.
"It is another one to add to his belt. All in all it was a good night's work."
The win follows on from Richard's victory in Norway last Saturday (8 May), when he beat Petter Solberg in a light-contact contest, also at 86kg.
There's no rest for Richard.
He's back in action again next weekend (Sunday, 23 May) at the Ireland v Italy contest at the Green Isle hotel in Dublin.
Norman added: "It's good to keep Richard busy, and it's great that he has won again. He has done very well recently."
Richard's opponent at the Green Isle hotel is Alan Coffey of the Global Kickboxing Club, Ballybrack.
Well done to Richard on his latest success in Co Clare tonight.