The start of the WAKO World Cup in Rimini is almost upon us and Roy Baker says he is happy with the way the Irish team's preparations have gone for the prestigious three-day event.
Roy, the president of AKAI, told blackpanther.ie: "I think the preparations are going as well as expected. The various training camps are working well and there is a significant increase in interaction amongst fighters and coaches, which is healthy and productive.
"We can only survive and flourish if we continue to challenge each other and make things better."
Norman Kelly, Black Panther chief instructor, said: "I echo Roy's sentiments – he's right in what he says. The only way forward is if all the different groups [in kickboxing] get together and show a united front.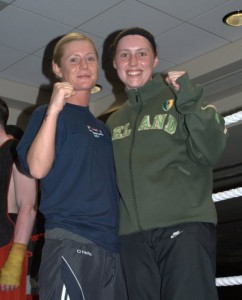 "Preparations have gone more or less without a hitch. It's up to the fighters now. The coaches have put them though their paces in preparation for what lies ahead this weekend. Now it is up to them. Their moment has arrived."
Rebecca Dillon and Richard Kiely are part of the 19-strong Irish team.
Rebecca, pictured far left with fellow Irish team member Lindsey Doyle of Global Kickboxing Club, Ballybrack, was a bronze medalist at last year's event in the 56kg category.
Roy, who said he has high hopes for Rebecca and Richard, as revealed on blackpanther.ie in a prior interview, added: "Medals are important but not the main priority. We prepare for the World Cup, but it is not the real focus; the real focus is testing your skills against the best and developing an understanding and a strategy with your coach for success [now and in the future].
"Medals in a World Cup are important, but they are not the be-all and end-all."
*Blackpanther.ie are in Rimini this weekend, so keep your eyes peeled to this website for the latest news from the Irish camp, and from Richard and Rebecca in particular.