Rebecca Dillon is guaranteed a bronze medal at the WAKO World Cup in Rimini after a no-show by her Italian opponent today (Friday, 4 June).
Rebecca was due to fight Francesca Lungi in the -52kg full-contact category but her opponent failed to put in an appearance and kept her waiting in the ring on her own.
Not that Rebecca was complaining – she's guaranteed a bronze medal now!
She now faces Mateja Rajtenic from Slovenia on Saturday (5 June) for a place in the final.
After Lungi failed to show, Rebecca was awarded the fight.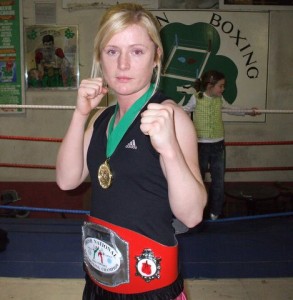 Rebecca joked: "That was handy, but I'm not complaining – I've got a medal whatever happens, and that's nice."
However, Richard Kiely lost on points to Russian opponent Fedor Luchinkin in the -86kg full-contact category over two two-minute rounds.
Richard, who was suffering from a groin injury, said: "That wasn't me out there – I just didn't perform as I know I can, which is what makes it even more disappointing. The groin injury meant I couldn't get off any of my left kicks, which didn't help at all. It was a real hindrance."
Meanwhile, Lindsey Doyle, who spars with Rebecca from time to time, is also guaranteed a bronze medal after receiving a bye in the -56kg full-contact category today.
Lindsey, from the Global Kickboxing Club in Ballybrack, now faces Federica Bozzurra on Saturday (5 June) for a place in the final.
Well done to Rebecca and Lindsey, commiserations to Richard – there is always the next time.