Richard Kiely was left to think of what might have been, and left cursing his luck, as he woke here in Rimini on Saturday morning (5 June).
Richard, 27, had been tipped as a strong medal prospect from among the 19-strong Irish team competing at the WAKO World Cup but failed to get the better of Russian opponent Fedor Luchinkin over a shortened two two-minute round format on Friday (4 June).
Richard was also suffering from a groin injury which restricted his kicking.
While he put in a strong showing in the final round, it wasn't enough in the end to convince the judges, who gave the Russian the verdict.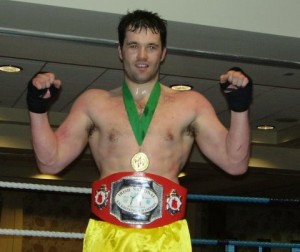 Richard told blackpanther.ie: "I started slowly in the first round. I wasn't in it, to be honest. Because of a bad groin strain, I couldn't unload any of my left kicks. He took the first round, I don't dispute that. But I was stronger in the second round, particularly over the last 30 seconds or so. I hit him with some solid shots and hurt him.
"Unfortunately it was only a two-round fight. I'm not making excuses, but I had trained for a three-round fight. When it's only over two rounds the margin for error is very fine, you can't afford to make a bad start. I think if it had gone to a third round I would have continued to get stronger and eventually got the better of him.
"The last 30 seconds of the second round I caught him (with a right), and it really hurt him. I was starting to come into the fight then and I just wish there had been a third round. Who knows what might have happened then.
"It wasn't that he fought well, it was just that I fought badly.
"It's really disappointing. The only thing I can do is chalk it down to experience and be stronger for the next fight. You learn from your experiences. He knows he has been in a fight. I hurt him and really rocked him the last 30 seconds."
It was Richard's first time competing at this level, and the draw wasn't kind to him either.
He said: "The draw was a bit unkind. I got a Russian – they're the best. Even still, I was well capable of beating him and I should have beaten him. Had I been on form I think I would have beaten him easily. That's not making excuses, that's just the way it is."
Waterford's Lynn McEnery, who also lost on Friday (4 June) in the -48kg category for women,
felt the same.
She didn't like the shortened two-minute format either.
"It's a long way to come for just two rounds," she told blackpanther.ie. "If you're not quickly into your stride, you're really up against it from the word go. Unfortunately for me, it usually takes me a little while to settle into a fight.
"It wasn't to be, but there is always the next time." 
Rebecca Dillon, meanwhile, was back down at the 105 Stadium in Rimini at 8am Irish time today (Saturday, 5 June) to weigh in for her semi-final bout against Slovenia's Mateja Rajtenic later in the afternoon.
Rebecca is guaranteed a bronze medal, as is Lindsey Doyle of Global Kickboxing, Ballybrack.
Rebecca's Italian opponent Francesca Lungi failed to put in an appearance on Friday in the -52kg category, and Lindsey received a bye. Lindsey's competing in the -56kg division.
Rebecca has never lost to an Italian rival and it seems Lungi had no intention being her latest victim!