Norman Kelly believes Rebecca Dillon can take gold here in Rimini on Sunday (6 June) at the WAKO World Cup.
Rebecca faces rangy Norwegian Marielle Hansen in the full-contact -52kg category after her resounding 22-6, 23-6, 27-6 victory over outclassed Slovenian opponent Mateja Rajteric.
Norman told blackpanther.ie: "There is no reason why Rebecca can't go all the way now, but it is never that straightforward. She needs to stay focused and keep doing the right things."
Regarding Rebecca's win over Rajteric, Norman added: "She was in control from the word go. Her foot sweeps, everything, worked to perfection.
"If she fights her fight the exact same way that she usually does, which she is doing, she won't go far wrong."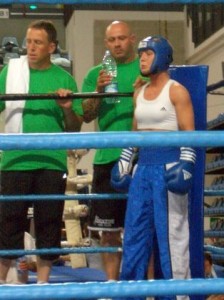 Norman believes Rebecca could have stopped her Slovenian opponent but was more interested in conserving her energy for the final once she knew she was so far ahead on points that she couldn't be beaten.
Rajteric took a standing count 22 seconds into the third and final round and Norman added: "She could have stopped her, but she didn't want to expend too much energy. It was about getting the job done and getting into the final, the stoppage would have been a bonus had it come.
"It's all coming together for Rebecca. She's hitting harder, stronger and faster all the time."
Rebecca said: "I knew I had her in trouble, I could see it in her eyes.
But I've still got a job to do tomorrow (Sunday, 6 June)."