AS you can see in the photo immediately below Rebecca Dillon takes in everything Norman Kelly has to say during her bout with Mateja Rajteric at the WAKO World Cup in Rimini today (Saturday, 5 June).
Rebecca was in scintillating form as she demolished her Slovenian opponent to book a place in the final of the full-contact -52kg category against taller Norwegian Marielle Hansen.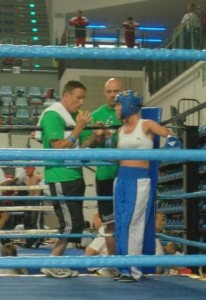 But Rebecca has nothing to fear – it's Marielle Hansen who should be having a sleepless night ahead of Sunday's final!
So impressed were the judges that they awarded Rebecca a 22-6, 23-6, 27-6 runaway victory over Rajteric.
Rebecca twice had her opponent on the canvas and the outclassed Slovenian was also given a standing count 22 seconds in the third and final round of the 3×2-minute contest.
Rebecca was superb – and that's no exaggeration.
The one thing that marks her out is her willingness to listen and ability to take everything on board Black Panther chief instructor Norman Kelly has to tell her.
And now she stands just six minutes from a gold medal at the WAKO World Cup.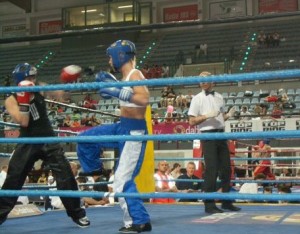 Whatever happens on Sunday (6 June) Rebecca is going home with a silver medal in her pocket at the very least.
Please feel free to send Rebecca any messages of support you might wish to pass on.
If you do, we will make sure she sees them before she steps into the ring on Sunday.
Little things like that can make the world of difference to a fighter. It's a solitary existence when you're in there in the ring on your own, but knowing that so many people back home are willing her own would mean so much to Rebecca.
Don't be shy, let her know you are all fully behind her.
Later tonight we will download your messages of support and display them.
You can see some more photos of Rebecca and one or two of Richard Kiely if you click on the gallery section.