We've great news from the WAKO World Cup in Rimini, Rebecca Dillon has won gold in the full-contact -52kg category.
Rebecca won a rip-roaring contest on a split decision over rangy Norwegian Marielle Hansen, 12-10, 15-14, 15-16.
One official remarked that it was the best fight he had seen in many a year.
Yes, it was that good – and, once more, Rebecca came up with the goods.
It was a terrific fight from start to finish, with Rebecca a deserving winner, but it was a close run thing against a classy Norwegian opponent.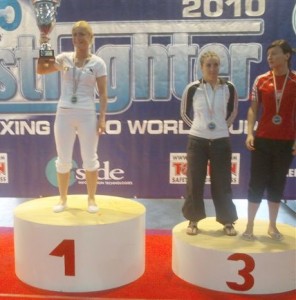 Rebecca unloaded a lead roundhouse to the Norwegian's head straight from the opening bell – but by the end of the first round, all three judges had Rebecca trailing.
That's when Rebecca really started to knuckle down and step it up a gear or two.
A feature of Rebecca's win was her punishing front kicks and her stamina and fitness stood to her in the end, too.
Her punches were also so much more powerful than her opponent's and she is super fit. She has got stamina to burn. This might be an amateur sport but she applies herself in the manner of a professional.
She also worked well on the inside, but she had to against her taller opponent.
By the end of the second round she had her nose in front – an advantage she didn't relinquish. One of the judges gave Rebecca the second round 9-4 such was her positive response as she came storming back to seize control of the contest. 
And she held her advantage through to the final bell, with Norman Kelly, Black Panther's chief instructor, claiming the referee should even have given the Norwegian a standing count in the final round of the 3×2-minute contest.
Rebecca told blackpanther.ie: "It's brilliant; I can't believe it; it's absolutely brilliant. This makes all the early morning training sessions so worthwhile. I knew I had a silver medal whatever happened, but I was determined to go home with gold.
"I would like to thank Norman Kelly for all the time he has put into coaching me and all my family and friends. They know how much hard work I put in and sometimes you don't get rewarded. But today was my day. I'm so happy, so pleased."
The only aspect of Rebecca's performance that didn't work as well as it usually does was her foot sweeps. The Norwegian had her knees bent and her feet firmly planted on the canvas, making it almost impossible for Rebecca to execute what is usually such an effective part of her game plan.
Again, don't be shy about passing on your best wishes to Rebecca – get texting now! She would love to hear from you, and she will be online later today to check what you've been saying.
* Rebecca was also voted best fighter in her category – as if that was ever in any doubt!