Rebecca Dillon revealed the secret to her success after taking gold in the full-contact -52kg category at the WAKO World Cup here in Rimini today (Sunday, 6 June) – she's a workaholic!
Rebecca's normal daily routine begins with a 6am training session at a time when most of us are still tucked up in bed, then it's off to work between 8am-4.30pm, before she's back in the Black Panther Gym in Brookfield at 7pm for yet another workout.
As Black Panther chief instructor Norman Kelly acknowledged: "In effect, Rebecca trains like a semi-professional. She puts in so much hard work and she got her reward today."
A delighted Rebecca told blackpanther.ie: "It's a lot of hard work, for sure – but it's worth it for something like this. There's no messing about. I don't go out, I don't drink, I don't do anything like that. I only want to train. I want to be the best I can be."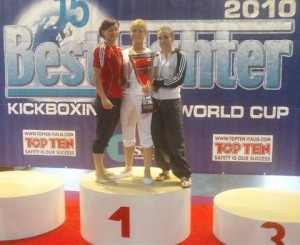 Omniously for her opponents, Rebecca then added: "And I've years left in me (to achieve even greater things). I'm still only 26. That's young enough. Now I'm after winning my first gold medal at the WAKO's. Hopefully, I will only get better."
Rebecca ranks her success in Rimini today right up there with her WKA Pro-AM world title at -55kg.
She said: "My world title is still probably my biggest achievement, but the WAKO's is such a big organisation. It is massive and attracts all of the best fighters from all of the biggest countries throughout Europe and I'm their number one in my weight division."
Rebecca claimed she wasn't aware she was behind on the scorecards of all three judges at the end of the opening round, because she told Norman not to tell her how she was doing.
She revealed: "I didn't know (I was behind at the end of round one). I had said to Norman 'don't tell me what the scores are', because if I had of known that would have been on my mind, and I just wanted to concentrate on the fight more than what I was scoring.
"She was tough, but I picked it back up a bit in the second round. It wasn't like the last fight where I could stand back and play around with the girl. She was coming forward all the time, so it really was a tough fight. But I'm delighted with what I have achieved I have to say."
Well done Rebecca, Tallaght's golden girl!