Irish full-contact kickboxing coach Jimmy Upton congratulated Rebecca Dillon on her victory in the -52kg category at the WAKO World Cup here in Rimini today (Sunday, 6 June) and immediately predicted further glory for Tallaght's golden girl.
After watching Rebecca's split-decision victory over Norwegian Marielle Hansen, Upton told blackpanther.ie: "That was excellent (from Rebecca), excellent. She looks as if she is only going to get better.
"She has really moved up a notch or two (in terms of her performances) and she looks really on top of her game."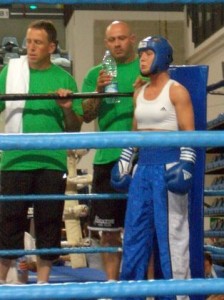 And casting an eye to the European Championships in Greece in November, Upton (pictured in the middle of the picture with the water bottle in his hand) added: "
She's looking very, very good now for the European Championships in Greece in November. She's on track to do really well out there. She keeps finding a new gear and there is no reason why she can't get even better.
"I was really impressed with her today."
Referring to Rebecca's slow start in the first round, Norman Kelly, Black Panther chief instructor, said: "Rebecca was only gaining the measure of the Norwegian girl. She was never in any trouble. There was no way Rebecca was going to back off, and she didn't. We always have a strategy and a back-up plan if needs be.
"But Rebecca's hard to faze. She won back the points by the end of the second round. She also picked up points at the end of the last round and nearly stopped the girl. I think she should have been given a standing count. The fact that she wasn't still worked in our favour as it turned out, as the other girl was tiring much more than Rebecca."
Norman added: "Credit to the Norwegian, though, she was no pushover."