You can read more about Rebecca Dillon's superb victory at the WAKO World Cup in Rimini today (Sunday, 6 June) in Monday's Irish Daily Star.
As well as a story on Rebecca's magnificent win over Norwegian opponent Marielle Hansen over 3×2-minute rounds in the final, it is also likely there will be a picture of Rebecca too.
So make sure you snap up your copy of The Irish Daily Star tomorrow, don't miss it!
We are really grateful to The Irish Daily Star and we urge you to support them. Don't forget they also sponsored our annual fight night at the Green Isle Hotel on 2 May.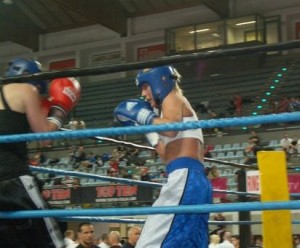 Extracting sponsorship money from anyone isn't easy, especially nowadays, but they were happy to put their hands in their pockets and help us out.
On this occasion we would like to extend our sincere thanks to Eoin Brannigan, who is the sports editor at The Irish Daily Star.
From everyone at the Black Panther Kickboxing Club, especially Norman Kelly, the club's chief instructor, a big thank you to The Irish Daily Star. Your support is really, really appreciated.
And, again, congrats Rebecca, you are a credit to yourself and to the area of Tallaght in particular.
This is a good news story from the area, be proud and savour the moment.
And don't forget to welcome Rebecca back home.
The picture above is from her semi-final win over Slovenia's Mateja Rajteric on Saturday.