This is the moment when Rebecca Dillon felt on top of the world.
The judges had just given their verdict in Rimini and Rebecca had added the WAKO full-contact -52kg category crown to her WKA Pro-Am -55kg title with her split-decision victory (12-10, 15-14, 15-16) over Norwegian Marielle Hansen over three two-minute rounds.
It is the moment that Rebecca, who was also named the event's top female fighter, had been waiting for all her life.
And, of course, she can now proudly call herself a dual world champion, too.
Rebecca was in outstanding form in Italy.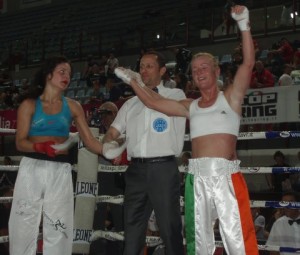 After a no-show by her Italian rival Francesca Lungi in the opening round, she then demolished Slovenia's Mateja Rajteric in the semi-final on a unanimous points decision (22-6, 23-6, 27-6).
While Hansen proved a much tougher nut to crack, Rebecca was determined not to be denied.
And she didn't forget her many fans in her moment of glory.
The blackpanther.ie site had been bombarded with messages of support for Rebecca throughout her three-day glory trail and she said: "I want to thank each and every one of them – my family, my friends; I even received one or two texts from people I don't even know. Thank you everybody."
Rebecca may make an appearance at the Black Panther's gym in Brookfield on Wednesday night (9 June), although that has yet to be confirmed as she takes a well-earned break from training for a few days.