The next major event on Rebecca Dillon's radar is the European Championships in Greece in November.
And WAKO (World Association of Kickboxing Organizations) has confirmed that the event will take place from November 22-28 in Loutraki City, only 80km from Athens.
National teams will stay at the Poseidon Resort, which is a one-hour journey by train from Athens international airport.
Irish full-contact coach Jimmy Upton believes Rebecca can strike gold in Athens, too, in five months' time.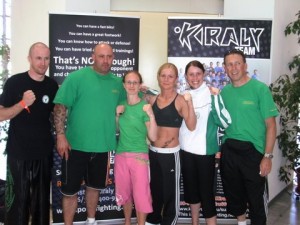 After Rebecca's stunning success in the full-contact -52kg category at the WAKO World Cup in Rimini on Sunday (6 June), Upton sees further glory on the horizon for the 26-year-old from Fettercairn.
He told blackpanther.ie: "Rebecca is going from strength to strength. She keeps finding an extra gear; she keeps setting higher and higher standards."
Rebecca is now recharging her batteries back home in Dublin with a well-earned rest after returning from Italy.
A go-slow by Italian air-traffic controllers delayed the Ryanair flight taking Rebecca and the rest of the AKAI Irish national team back to Ireland for almost two hours at Bologna airport on Monday, but it didn't spoil her celebrations.
She told blackpanther.ie: "It is great to be back home again among family and friends. I have a bit of catching up to do, but I have a few days off to do it."
It is unlikely Rebecca will be at the Black Panther Gym in Brookfield tonight (Wednesday, 9 June), it's more likely to be next Monday (14 June) before she shows her face again.