Norman Kelly has hailed Rebecca Dillon's landmark victory at the WAKO World Cup in Rimini last Sunday (6 June) and challenged her Black Panther club-mates to follow in her footsteps.
"Rebecca's win is going to encourage the rest of the club to climb that bit further, too," Norman told blackpanther.ie. "Rebecca has set the benchmark. She has done it and they [the rest of the Black Panther] members can do it also," added Norman, who is pictured below with Rebecca and Jimmy Upton, Irish full-contact coach, in Rimini last weekend.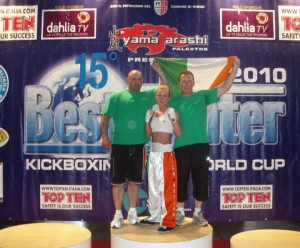 "Rebecca is living proof that all that hard work, all the many long hours spent at the gym, does actually pay-off.
"And she has set a precedent for the future, not just for our kickboxers, but for other kickboxers in other clubs, too. It can be done – she has proved that beyond a shadow of a doubt."
Among those climbing the ranks within the Black Panther club are Keith Burns, Jessica Dillon, Kieran Lee and brothers John and Robert Mongan. John is pictured below in the red head gear fighting at the Green Isle hotel on 2 May.
And some of kids are showing huge potential, too – the likes of Leon Johnson, Ryan Keegan and Adam and Jack Savage to name but a few.
Rebecca's victory in the full-contact -52kg division in Rimini also put to bed once and for all that annoying belief held by some that because you are Irish you are somehow not good enough to compete for the highest honours on the world stage.
"Rebecca ended that old adage," remarked Norman. "There has been a perception in the past that because we're Irish we're somehow not good enough, that we'd never be able to hold our own with the sport's elite. Well, we can!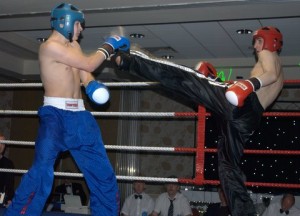 "In the space of three days, Rebecca showed what can be done. She showed the way forward. And, more importantly, she brought all of that negative thinking to an end."
Richard Kiely, meanwhile, is undergoing physio for the groin strain that contributed to his early exit in the men's -86kg division at the WAKO World Cup last Friday (4 June).
Richard lost to highly-rated Russian Fedor Luchinkin over a shortened two two-minute round format, but his groin injury restricted his kicking ability.
It's not known how long he will be laid up for.
We'll keep you posted as soon as we know.
In the meantime, everyone at the Black Panther club wishes him a speedy recovery.