It is hoped, although by no means guaranteed, that Rebecca Dillon will put in an appearance at the Black Panther Club in Tallaght on Monday (14 June) following her success at the WAKO World Cup in Rimini last Sunday (6 June).
Rebecca has been having a well-deserved rest following her victory in the full-contact -52kg category in Italy. She beat Norway's Marielle Hansen in the final on a split decision.
It is also hoped that she will have the magnificent trophy she won in Rimini with her on Monday, so you can get to see it and share in her success with her.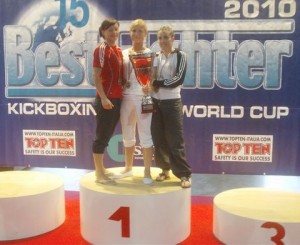 Rebecca is pictured with the trophy following the awards' ceremony at the 105 Stadium on the outskirts of Rimini last Sunday.
And her next big date is the WAKO European Championships in Greece from November 22-28 later this year.
Not surprisingly, she is also being tipped for glory there in five months' time.
Rebecca told blackpanther.ie: "It was great the amount of support I received when I was in Italy last week. I read all of the good-luck messages on the website.
"It gave me a great boost to know that so many people – family, friends and even people I didn't know – were willing me to win. It really helped."