Richard Kiely returns to training on Monday, but it could be a month before he is back operating at full throttle again, blackpanther.ie can reveal.
Richard, 27, suffered a groin injury at the WAKO World Cup in Rimini last week (4-6 June). It was a big contributory factor in his defeat to Russia's Fedor Luchinkin in the men's full-contact -86kg division.
Like Rebecca Dillon, Richard has been on a well deserved rest since he returned from Italy last Monday (7 June) along with the rest of the AKAI team.
But he now has his eyes firmly planted on the European Championships in Greece from November 22-28 as he receives treatment for his troublesome groin problem.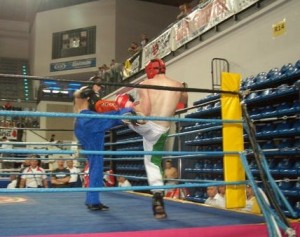 He told blackpanther.ie: "I'll be back training on Monday (in Brookfield) but, realistically, I won't be doing anything too strenuous on the legs for about a month."
Richard, pictured in action in Rimini, was bitterly disappointed to lose to Luchinkin over a shortened 2×2-min round format. He didn't look his usual powerful self as he saw the Russian earn the unanimous verdict of the judges.
Afterwards, he revealed how the groin injury had effectively immobilised his left leg, leaving him with little chance of progressing beyond his opening bout at the event.
It was a real shame as Luchinkin didn't progress any further.
But Richard is determined to bounce back even stronger from the disappointment he suffered in Rimini.
He said: "I hope to come back stronger – and even more explosive. I have my eyes firmly locked on the Euros (the European Championships in Greece), and I intend to use the disappointment (of Rimini) as an extra incentive to train even harder and do even better."