It's a little over a week since Rebecca Dillon's superb triumph at the WAKO World Cup in Rimini.
Now, if you want to check out the full list of results from the 105 Stadium on the outskirts of Rimini over the three days of competition in Italy, you can click on the link that follows below from the official WAKO website.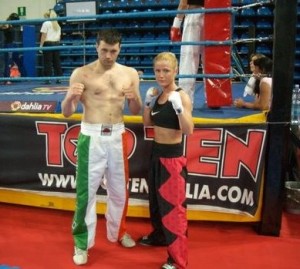 It has all the details concerning the full-contact categories for both men and women.
http://www.yama-arashi.org/bestfighter/images/stories/Bestfighter2010-FC-pools.pdf
Rebecca (pictured with Richard Kiely in Rimini on Friday, 4 June) beat Norway's Marielle Hansen on a split decision in the final of the women's -52kg category over three two-minute rounds.
Richard was beaten by Russia's Fedor Luchinkin in the men's -86kg division over a shortened two two-minute round format in his one and only bout at the tournament.
Luchinkin was the unanimous winner but Richard was suffering with a groin strain, an injury that undoubtedly contributed to his defeat.
He is currently receiving physio for his injury.