Rebecca Dillon won't be at training at the Black Panther Club in Tallaght tonight (Monday, 14 June) after her energy-sapping exploits in Italy.
But Richard Kiely is expected to put in an appearance following the WAKO World Cup in Rimini, where Rebecca took gold in the women's full-contact -52kg final against Norway's Marielle Hansen.
Rebecca, who won on a split decision, has been given a few more days off by Black Panther chief instructor Norman Kelly.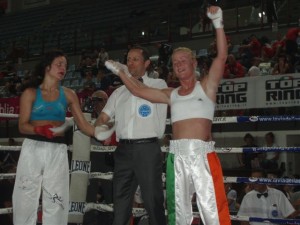 Obviously people are anxious to see Rebecca and the magnificent trophy she won in Rimini, and blackpanther.ie will keep you posted on her movements over the coming days.
Don't worry, we'll do our best to make sure you don't miss out on Rebecca's homecoming.
There is also the possibility that TV3 will soon be featuring Rebecca again on their flagship Ireland AM morning programme.
Rebecca, along with Black Panther chief instructor Norman Kelly, Richard Kiely, martial arts instructor Pat Harding, club member Robert Reid, and Lindsey Doyle of Global Kickboxing Club, Ballybrack, also appeared on TV3 prior to our annual show at the Green Isle hotel on 2 May.
Richard, meanwhile, takes his first tentative steps back on the road to recovery from the groin injury that wrecked his hopes in the men's full-contact -86kg division in Rimini.
The injury restricted the movement in Richard's left leg. Consequently he wasn't anywhere near his best in Rimini and fell at the first hurdle to Russian Fedor Luchinkin.
It could be up to another month before Richard is operating at full throttle again.
In the meantime, he will work on his hands and upper body.