A welcome-home party has been organised for Rebecca Dillon and Richard Kiely this Sunday (20 June).
It's on in The Metro Bar in Tallaght starting at 7pm and is mainly in honour of Rebecca's gold medal winning exploits at the WAKO World Cup in Rimini on Sunday, June 6, but also in honour of Richard's achievement in also being part of the AKAI national team that travelled to Italy earlier this month.
To get to represent your country at the very highest level deserves some recognition.
Everyone is welcome to attend.
Rebecca (pictured below with her trophy) beat Norway's Marielle Hansen in the women's full-contact -52kg division by split decision over three two-minute rounds.
Black Panther club member Denis Mahon has organised the bash and it's hoped to have upwards of 30 seats reserved for Black Panther Club members who wish to attend.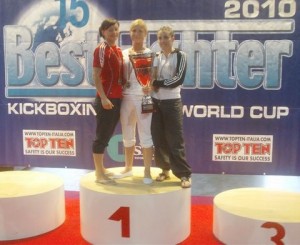 Denis said: "It's just our little way of saying a big well done to both Rebecca and Richard, especially Rebecca.
"Winning gold was a brilliant achievement by Rebecca. She's out on her own in terms of women's kickboxing, not only here in Ireland, but on the world stage as well.
"Hopefully there will be a really good turnout. We hope there will and we have lots of people who have already committed themselves to being there, so it should be a really good night."
He added: "I've been on to Rebecca's sister and all her family and friends know about it now."
Richard fell at the first hurdle in Rimini in the men's full-contact -86kg division but he was suffering from a groin injury at the time.
He is currently receiving physio for the injury.