Young Ryan Keegan returned to training in Tallaght on Wednesday night (16 June), and it was great to see him back.
Ryan, who's still only 11, has been plagued by a bad run of injuries recently.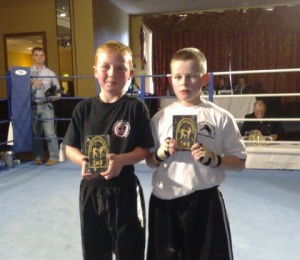 First, he damaged his shoulder in training in a freak accident – then, soon after his return, he unfortunately ended up on crutches for a while.
Talk about bad luck, but it didn't inhibit him in any way on his return to Brookfield Gym – absolutely not!
Straight in the door and straight down to stretching – Ryan's attitude to training is exemplary.
Ryan (pictured in the white top) is Paddy Keegan's son and he eats, sleeps and dreams kickboxing!
It's all he wants to do.
It was hard for Ryan not to be able to take part in the annual Black Panther kickboxing show at the Green Isle hotel on Sunday, May 2.
In order to make up for his disappointment he was presented with a special merit trophy on the night – a really nice touch by Black Panther chief instructor Norman Kelly.
Well done Ryan, and welcome back – you were missed.