Rebecca Dillon returns to training at the Black Panther club tonight (Monday, 21 June), two weeks after her magnificent victory at the WAKO World Cup in Rimini.
The 26-year-old Rebecca has been on a well deserved rest following her triumph in the full-contact -52kg division for women on Sunday, 6 June, but now the hard work begins again.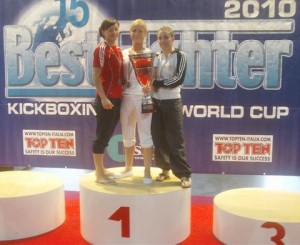 The next big target for Rebecca is the WAKO European Championships in Greece from November 22-28.
It is also what Richard Kiely, who competed in the full-contact -86kg division for men in Rimini, is aspiring to as he, too, knuckles back down to the hard work.
In Richard's case, his progress will be that bit slower as he recovers from a groin injury that saw him fall at the first hurdle at the 105 Stadium in Rimini.
Rebecca told blackpanther.ie: "I enjoyed the rest. It is nice to switch off from training and kickboxing for a while – it helps recharge the batteries. Now I am ready to go again."
Black Panther chief instructor Norman Kelly said: "It's back down to work for Rebecca and Richard. It starts tonight (Monday, 21 June). They've had a fortnight off and they will be refreshed by the break."
There was a welcome-home party for Rebecca and Richard at The Metro in Tallaght last night (Sunday, 21 June).
It was well attended and Denis Mahon, a Black Panther club member who organised the bash, told blackpanther.ie: "There was a great turnout and it went really well. We just wanted to say a big well done to both Rebecca and Richard. They deserved it."