Richard Kiely returned to training at the Black Panther club in Brookfield on Monday (21 June), but Rebecca Dillon has been excused until tomorrow (Wednesday, 23 June).
Richard, of course, is also battling a groin injury right now but chief instructor Norman Kelly was delighted to see him return to the fold after his involvement at the WAKO World Cup in Rimini from June 4-6.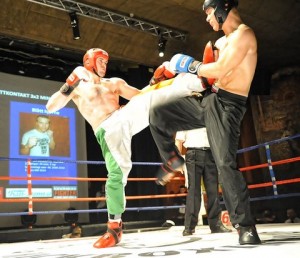 Norman told blackpanther.ie: "Richard was back training last night (Monday, 21 June), but we started off nice and easy.
"Obviously, we've got a longer-term objective in mind," Norman added, in reference to the European Championships in Greece from November 22-28.
"I've some special training planned for the summer months as part of our preparations, but all will be revealed in time."
Richard lost to Russian Fedor Luchinkin in the men's full-contact -86kg category at the WAKO World Cup in Rimini, but he was hindered by the groin injury he is currently receiving treatment for.
Welcome back Richard, who is pictured above fighting in Norway earlier this year.
The photograph is courtesy of http://kampsportforalle.no