Black Panther chief instructor Norman Kelly has been added to the full-contact committee of AKAI, the national governing body for kickboxing in this country.
It is further proof of the great strides that the Black Panther club is making that Norman has been honoured in this way.
Needless to say, he is delighted with this development.
Speaking to blackpanther.ie, Norman said: "The (AKAI) full-contact committee is run very democratically, which means your voice really does count.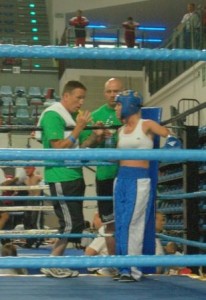 "Decisions are taken with everybody in mind, which is very encouraging to see and emphasises the truly democratic nature of the organisation.
"I am very happy with this development, both on a personal level and for the club in a broader sense.
"It is really good for the Black Panther club."
Meanwhile, there is an AKAI squad training session this Sunday (27 June) at Crumlin Boxing Club from 9.30am-4.30pm.
All full-contact fighters who finished first, second or third at the AKAI national championships earlier this year are invited to attend as of right, but if any other kickboxers are interested in taking part they should give Norman a ring at 087-2917499. The cost is €25.
The seven-hour session will also consist of a number of seminars, including talks on strength, flexibility, aerobic fitness and conditioning.
Norman is pictured above (far left) giving Rebecca Dillon a pep talk at the recent WAKO World Cup in Rimini.
Of course, Rebecca won gold in the women's -52kg division in Italy.