Richard Kiely returned to training this week and said: I'm delighted to be back and I'm well on the road to recovery.
Richard took a complete rest from kickboxing the fortnight following the WAKO World Cup in Rimini, where he failed to progress beyond his first bout at the men's -86kg full-contact category.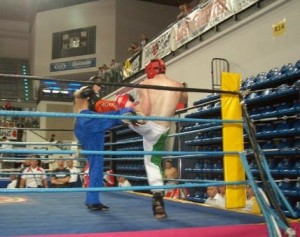 A groin injury scuppered his chances of progressing against Russian Fedor Luchinkin but Richard (pictured in action in Rimini) is raring to go again.
He told blackpanther.ie: "I'm delighted to be back training and am looking forward to building on the experiences of this year and coming back stronger than ever."
And he added: "The only two fights I've ever lost have been against two very experienced international opponents and I felt I was very capable of beating both.
"Unfortunately circumstances conspired against me with one bad decision from the judges and then the injury I suffered in Italy."
And Richard has vowed to be even stronger for the experience when he next returns to the ring.
He said: "I'm intent on training as professionally as possible and with the training regime Norman [Kelly, chief instructor Black Panther Kickboxing Club] is putting in place, I'm confident I can make a real and explosive impact in Athens [for the European Championships from November 22-28]."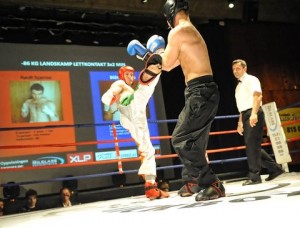 And he had more good news, which he shared with blackpanther.ie.
He revealed: "My leg is healing a lot quicker than I thought and I can currently kick at waist height. If my recovery keeps progressing at this rate, then I hope to be kicking with full power and range of movement within three to four weeks."
And he promised: "The disappointment of Italy is only going to spur me on to come back stronger and perform to my true potential."
Richard is pictured (right) in action in Norway earlier this year. The picture is courtesy of www.kampsportforalle.no