Martial arts instructor Pat Harding powers his way through two three-inch blocks at training on Wednesday night (7 July).
It's really impressive stuff from Pat, who takes no prisoners as he shows how it should be done at the Black Panther club in Tallaght.
It's all about speed, technique and the release of power at precisely the right time.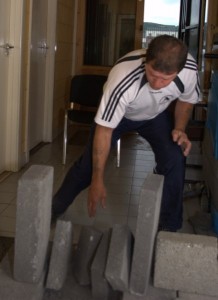 It can be hard enough at times getting through one three-inch block, never mind two!
And, unlike some so-called martial arts' practitioners, Pat only uses 100 per cent solid concrete blocks, they're not doctored in any way.
Pat's martial arts classes are held on a Wednesday (7-9.30pm), Friday (7-9.30pm), Saturday (3-5pm) and Sunday (10am-1pm), with the occasional Monday (7-9.30pm) also thrown in.
If you're interested, you should contact Pat first at 086-8218988.
Pat told blackpanther.ie: "You can't just walk in off the street and expect to break blocks straight away. It doesn't happen like that. It requires a lot of hard work.
"For starters, you have to condition your hands and that doesn't happen overnight. You have to be prepared to put in a lot of hard work; it requires a lot of graft.
"But feel free to contact me and we can assess you from there."
The class is open to adult men and women.