We'd like to wish popular Black Panther club member Denis Mahon a speedy recovery after he picked up an injury at training on Monday (5 July).
Denis fractured a rib and has bruising on his lungs after being caught with a roundhouse kick in a sparring session.
He expects to be out of action for up to six weeks but assures us he is still in the best of spirits, which is great to know.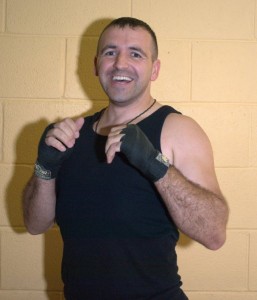 Denis, who accepts it was just one of those unfortunate things that can happen from time to time, told blackpanther.ie: "I will be out [of action] for about six weeks, and I'm recovering at home right now.
"It was my first time in sparring and I was a bit anxious with my punches. I just missed a block and I got a kick into the ribs [from a roundhouse].
"When I got home I put ice on it and fell asleep. I got up again at 3am and had to go to the hospital for X-rays. The doctor told me not to do anything for five or six weeks, but all is good [right now] and I'm on the mend."
Denis hasn't been put off by what happened and hopes to be back training in Tallaght as soon as possible.
"Hopefully, I'll be back training again soon," he added.
Once again, we wish him a speedy recovery.