Rebecca Dillon will continue to let her kickboxing do her talking after the disappointment of missing out a European Championship place.
Rebecca's aim after taking gold at the WAKO World Cup in Rimini in June was a medal at the Europeans in Greece in November.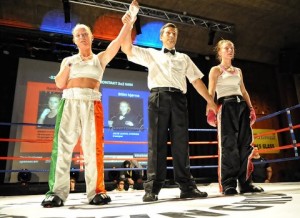 But she won't be going now as she's not the reigning national champion at -52kg.
It is really disappointing news for Rebecca (pictured left as she gets the verdict over Julia Jakko in Norway earlier this year).
In fairness, the way was still open for Rebecca to represent her country in Greece. She had the option of stepping up to -56kg but, after consulting with Black Panther chief instructor Norman Kelly, decided to give Greece a miss altogether as she wants to continue at -52kg.
She told blackpanther.ie: "I'm disappointed that I can't go to Greece – that goes without saying. Fighting at -52kg is what I have been training for the past few months.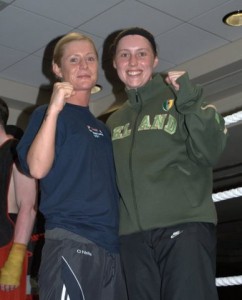 "After winning the Irish Open in March and the World Cup in June, I was hoping to go for a three in a row and win gold in Greece, too.
"It's unfortunate the way things have turned out, but it's not the end of the world."
It's Rebecca's intention to continue at -52kg.
She added: "I'm going to keep my training up and stay at -52kg.
"I'm sure something will come up in the meantime."
Rebecca (pictured right with Irish team-mate and occasional sparring partner Lindsey Doyle) was crowned Irish champion at -56kg in March but then dropped down to -52kg for the Irish Open and has stayed at that weight ever since.
She explained: "I've had great success at that weight [-52kg]. I've had seven fights and seven straight wins."
* The picture of Rebecca in Norway is courtesy of www.kampsportforalle.no