Rebecca Dillon won't be going to the European Championships in Greece in November, blackpanther.ie can exclusively reveal.
It's really disappointing news for Rebecca, who had her heart set on emulating her gold medal winning achievement in the -52kg full-contact category at the WAKO World Cup in Rimini in June.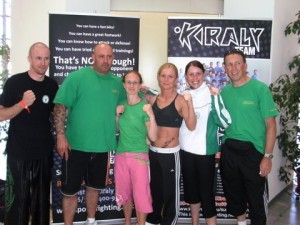 The reason Rebecca won't get to represent Ireland in Greece is that she's not the reigning national champion at -52kg.
Unfortunately, there is nothing Rebecca (pictured fourth from left and on her own immediately below) can do to alter the situation, but she has taken the decision with really good grace, as you would expect of a champion of her stature.
She had the option to move up to -56kg in Greece, as she's the national champion in that division, but, after consulting with Black Panther chief instructor Norman Kelly, has decided to opt out altogether.
She told blackpanther.ie: "I'm disappointed – yes. It's what I've been training for the past few months. It's always an honour to represent your country, but I'll take this in my stride and respond in the right way."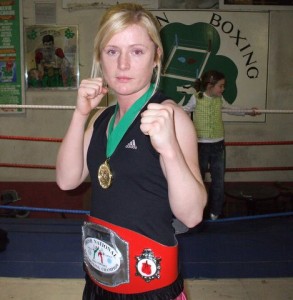 The registration deadline for the European Championships is this weekend, but Rebecca definitely won't be going to Greece.
Norman Kelly told blackpanther.ie: "We're all very disappointed for Rebecca. All the training she's done has been geared at -52kg. But she'll be back."
By the way, we would like to know your thoughts on Rebecca's bit of bad luck. You can express you views in the comments section below.
We value your opinion, so please let us know.
In the meantime, Norman is exploring other options for Rebecca later in the year.
Also, on Thursday (8 July) we will have an extended interview with Rebecca, so please keep your eye out for that.