There is a martial arts class tonight (Monday, 12 July).
Instructor Pat Harding will definitely be at the Black Panther club at Brookfield in Tallaght from 7.30pm through to 9.30pm.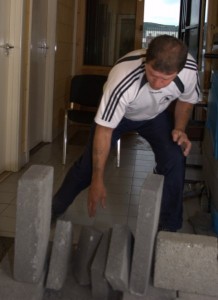 Pat isn't always available to take the class on a Monday but he is tonight, so if you are interested in joining up feel free to give him a call on 086-8218988.
Classes are held on Wednesday nights (7-9.30pm); Friday nights (7-9.30pm); Saturday afternoons (3-5pm); and Sunday mornings (10am-1pm).
So, if you can't make it tonight, there will be plenty of other opportunities during the week to get started.
Pat (pictured left and below) was in great from last week as he powered his way through not one, but two three-inch concrete blocks, which takes some doing. 
And, unlike some so-called martial artists out there, the bricks Pat uses aren't doctored in any way so that they will break more easily!
Pat told blackpanther.ie: "You're only deceiving yourself and selling your students short if that's what you're in the business of doing. What we do at the Black Panther club is for real.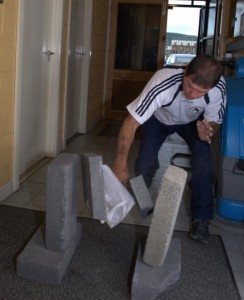 "It isn't easy, but breaking concrete blocks isn't meant to be."
It is all about speed, technique and the release of power at precisely the right time, and also involves lots and lots of hand conditioning.
You can't just expect to walk in off the street and break three-inch concrete blocks straight off.
Pat will first put you through the foundation level work that all students are required to do before they graduate to breaking blocks and other more advanced martial art techniques.
Pat only ever has a small group of students at any given point in time, so you are guaranteed plenty of individual attention.
Classes cost just €7.
Thanks, as ever, to our chief photographer Niamh Greene for capturing Pat's breaks at training last week.