Congratulations to Chris Boyne, who won in Wicklow last night (Saturday, 24 July).
Chris, who trains from time to time at the Black Panther gym in Brookfield, took a unanimous decision over Michael John Devlin in their 81kg category top-of-the-bill bout on the Wicklow Fight Night card.
Chris stuck to his game plan and got the job done, which pleased him no end.
All along Chris said he would 'do the business' and deliver on the night – and that's exactly what he did!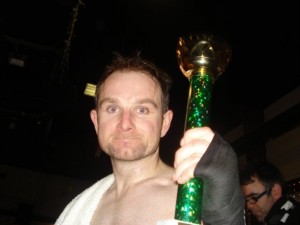 Chris, who fought in front of a packed 500-plus crowd in the Garden County, told blackpanther.ie: "It was the main fight of the night and the crowd was very vocal.
"He was the home guy and the favourite. When he came on the whole room erupted, but by the end of the fight the entire crowd was cheering the two of us," added Chris. "It was very decent of them, a really nice gesture."
And Chris, who is a member of Wild Geese Martial Arts run by Ronan MacSweeney, thanked Black Panther chief instructor Norman Kelly for his vital input into his hard-earned victory.
Chris ended up with a black eye and he acknowledged: "It was a very hard fight; the guy was a very good fighter with some hard shots, but I stuck to my game plan and did what Norman [Kelly] told me, which was to use my jab nice and quick and come with some heavy round-house kicks.
"I moved around the ring, hitting him and then getting out of the way.
"I am a bit sore today (Sunday, 25 July) and I have a black eye, but I loved it."
In fact, Chris confided to blackpanther.ie: "I can't wait for the next one!"
Well done Chris – everyone at Black Panther couldn't be happier for you.