Chris Boyne returns to the ring tonight (Saturday, 24 July) with some encouraging words from Black Panther chief instructor Norman Kelly to spur him on.
Chris, 35, takes on Michael John Devlin in an 81kg contest as part of the Wicklow Fight Night bill, and Norman told blackpanther.ie: "It is easy to see how much Chris's confidence has improved – it is quite noticeable really.
"Some fighters can lack of bit of confidence and Chris fitted into that category once, but not any more. The improvement is there for all to see.
"Yes, he still has lots to work on and plenty to do before he's the finished article, but don't we all.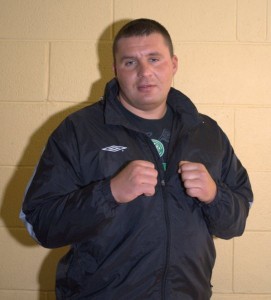 "Above all, he's a lot more positive about himself, and that's so important, especially for a fighter. You have to believe in yourself first and foremost.
"If he sticks to his game plan and stays disciplined and focused, I'm sure he will do well. He has certainly worked hard enough for this fight. He has put in a lot of hard graft and that is to his credit.
"Hopefully he will get the win he wants."
Chris, a member of Wild Geese Martial Arts, is a frequent visitor to the Black Panther gym in Brookfield and has sparred with the likes of Polish ace Patryk Gapik, who's from Poznan and is pictured on the left.
After a final sparring session at Wild Geese Martial Arts on Thursday (22 July), Chris put his feet up last night (Friday, 23 July) ahead of his return to the ring by going to the cinema with his fiancée, Gayle.
He told blackpanther.ie: "It's important to chill out and rest the night before you fight. And, again, I would like to say a big thank you to Norman Kelly. He has been superb. I value all his advice."
And he reiterated once more that he's all ready "to do the business" against opponent Devlin.
Go for it Chris, we know you can do it!