Niamh Greene, Black Panther's weight-loss program co-ordinator, says things are going "really well" right now with the diet Philip Kavanagh devised.
Initially, Niamh found it difficult to drum up some support for the diet but all that has changed now, with more and more people coming on board with each passing week.
Niamh, who's also the club's chief photographer, told blackpanther.ie: "At this stage, I've had a great response from people. It was slow to take hold at first but, gradually, all that changed."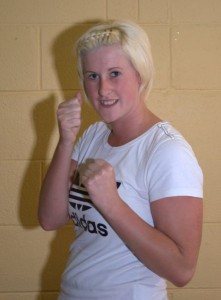 And she acknowledges the key role Philip has played in terms of its success thanks to his common sense approach to dieting.
Referring to the user-friendly diet Philip devised, Niamh said: "What really helps is the fact that the diet is so easy to follow. The weight-loss aspect is progressing well, which is really encouraging to see.
"For instance, Jonathan [Glacken, Niamh's fiancé] feels it is so easy to fit the diet into his daily routine, as once you stock up on all the foods that Philip has prescribed, it is so easy to implement."
And Niamh added: "Apart from losing some weight, there are other benefits, too. Losing weight and exercising also make you feel healthier overall and better in yourself.
"I know I do, and I know I speak for other people, too."
Pictured above is Claire Hearns, who's also on the diet.