Chris Boyne is confident his return to the ring will be a winning one tomorrow night (Saturday, 24 July).
And he is ever so grateful for the extra help he has received from Black Panther chief instructor Norman Kelly, in addition to the training he has received at his own club, Wild Geese Martial Arts, run by Ronan MacSweeney.
Chris, 35, told blackpanther.ie: "Mentally, I feel very well prepared; I know what I need to do in the ring, and that is what I will do.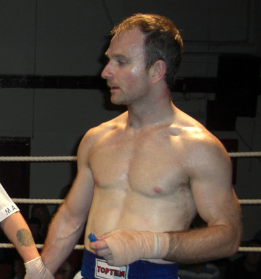 "I have had some excellent training at the Black Panther club and Norman [Kelly] has worked with me and given me a lot of guidance and advice. I am very grateful to him."
Chris, who has become a familiar face at the Black Panther gym in Brookfield, is up against Michael John Devlin tomorrow night as part of the Wicklow Fight Night bill.
With the fight almost upon him now, he is naturally winding down his preparations after a busy last week ahead of his bout.
He said: "I trained in Tallaght on Monday (19 July). I did about six rounds of sparring with the lads and I was feeling a bit sore on Tuesday (20 July) I can tell you – but it was worth it."
And he added: "Norman took me aside and did a few rounds on the pads with me and he worked on some combinations with me, too.
 "Overall, my preparations have gone okay. I trained in my own club on Tuesday (20 July), but I didn't do any sparring. Instead, I did a good cardio warm up, some stretching, and then about eight rounds on the pads. Again, I was feeling a bit tired the following day, but it's all part and parcel of the preparation."
Last night (Thursday, 22 July) Chris had a light training session involving a jog, some bag work and shadow boxing.
Tonight (Friday, 23 July) he intends to put his feet up and rest ahead of his bout – then, he promises, he "will do the business and beat this guy [Michael John Devlin]".
Everyone at the Black Panther club wishes you the very best Chris – go and do the business!