Black Panther chief instructor Norman Kelly has praised Shamrock Rovers after the Tallaght-based Hoops secured a glamour tie against Italian giants Juventus in UEFA's Europa League on Thursday (22 July).
Rovers beat Israeli team Bnei Yehuda 1-0 in Tel Aviv to advance to the third qualifying round of the competition on a 2-1 aggregate victory.
Rovers will now host Juve at their 6,000-capacity Tallaght Stadium next Thursday (29 July), with the return leg in Italy on August 5.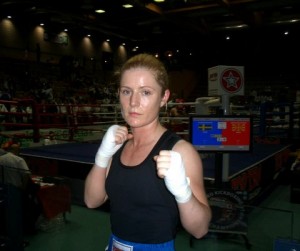 Norman told blackpanther.ie: "It is great for Tallaght and it is a great achievement by Shamrock Rovers. It will bring huge media attention to the area and lots of good publicity. The game will be also be seen 'live' across all of Italy, too.
"Credit where credit's due – well done to Shamrock Rovers from everyone at the Black Panther club. They have done Tallaght proud, just as Rebecca Dillon (pictured left) did when she won gold at the WAKO World Cup in Rimini.
"Like Rebecca, hopefully they will also enjoy success on their travels to Italy."
Rebecca beat Norway's Marielle Hansen on a split decision in Rimini on Sunday, 6 June to take the women's full-contact -52kg crown.
The tie is worth in the region of €500,000 to Rovers thanks to Thomas Stewart's 70th-minute winner in Tel Aviv.
Rovers will definitely stage the game, which will be televised live, in Tallaght just a year after they hosted Spanish football aristocrats Real Madrid in a glamour friendly.
The second leg will take place in Modena — not Turin's Stadio Olimpico — on August 5 as U2 are staging a concert at Juve's home ground the following night.
Norman added: "We wish them the very best of luck."