Philip Kavanagh from Westpark Fitness is a real sucker for punishment – that's for sure!
We told you last week that Philip (pictured below on the right) is taking part in this year's world-famous Gaelforce West event on Saturday, 21 August with all monies he raises being donated to the Black Panther club.
Nice one Philip, you're a star!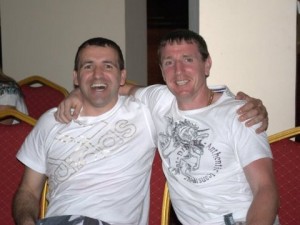 The Gaelforce West lays claim to being the largest one-day adventure race of its kind in the world. It is staged over a course that stretches 65 kilometres from picturesque Glassilaun beach, south-west of Killary Harbour in the heart of Connemara, to Westport in Co Mayo.
The 65km event is run over six gruelling stages – stage one begins with a beach, trail and road run over 12km; stage two involves kayaking across Killary Harbour, a total of 1.6km; stage three incorporates a trail and road run over 3.5km; stage four is a cycle over 32.5km; stage five involves a mountain run/hike over 4.5km; and stage 6 involves another cycle, this time over 12.5km.of Connemara, to Westport in Co Mayo.
How's that for punishment – and all on our behalf!
Well, Philip met with Norman Kelly, Black Panther chief instructor, over the weekend and will now press ahead with getting some official sponsorship cards made up.
When the time comes, don't forget to give Philip a few bob, if you have some spare cash to hand at the time.
Not content with that, Philip stepped into the ring for the first time at the Brookfield gym on Sunday (18 July) for his inaugural sparring session – and lived to tell the tale!
So he can't have been that bad, can he?!
Norman said: "It was a light sparring session – it's a case of little by little."
Regarding Philip's participation in Gaelforce West, Norman added: "It is a fantastic gesture by Philip and it is really appreciated by everybody at the club."
Philip also devised the club's popular weight-loss program orchestrated by our chief photographer Niamh Greene.
We really value and appreciate all his help.
Cheers Philip.