Toby Freeman, Richard Kiely's opponent at the Green Isle hotel on 2 May, is undefeated as a full-contact fighter.
Toby, from the Pegasus Aylesbury Kickboxing Club in Buckinghamshire, came through the ranks as an accomplished and highly decorated junior who won numerous British, European and world titles in light-contact.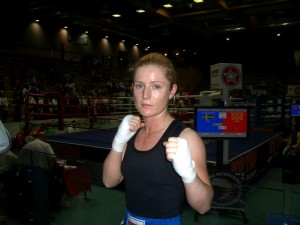 Meanwhile, Camilla Johansen, Rebecca Dillon's opponent, finished runner-up at the Norwegian full-contact kickboxing championships in Oslo on Saturday, 17 April in the -52kg division.
The 22-year-old's coach Lars Eriksson said: "Both Camilla and Rebecca (pictured left) have very similar styles. I know Camilla is really looking forward to meeting Rebecca. It should be a very interesting fight."
Camilla was in Ireland in March at the AKAI Irish Open at the CityWest Conference Centre, when she competed in the same 56kg weight division as Rebecca, although they didn't meet on that occasion.