Black Panther chief instructor Norman Kelly is really pleased with the progress Rebecca Dillon and Richard Kiely are making as they continue their preparations for Sunday's Ireland v Italy international contest at the Green Isle Hotel.
Rebecca and Richard were busy sparring at the Black Panther's gym in Brookfield, Tallaght tonight (Wednesday, 19 May) and Norman said: "The two of them are looking really sharp. They always prepare meticulously for a fight and this time is no different either."
The cooling fans were on as Rebecca and Richard worked out under Norman's watchful eye.
"It was very humid tonight," said Norman, "but it was business as usual for Rebecca and Richard."
Richard, 27, is chasing a hat-trick of wins this month when he steps into the ring against Alan Coffey of Global Kickboxing Club, Ballybrack on Sunday in an 86kg contest.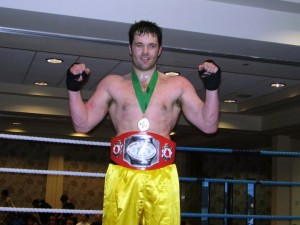 Richard (pictured left) beat Alan to win the Irish title at the Green Isle hotel earlier this year, and hopes to repeat that success in a few days' time.
Speaking to blackpanther.ie, Richard revealed: "I look forward to fighting Alan again on Sunday. He is a very powerful puncher and if the last fight is anything to go by, then this will make for an explosive match up.
"I've every confidence that I can come out with a win again, but I won't be underestimating him. Norman has kept me very active the last few weeks and I believe the sharpness this has given me will give me the edge on the day."
Richard beat Petter Solberg in a light-contact contest in Oslo on Saturday, May 8 and followed that up with a win in a full-contact bout against Tom Sullivan, a hard-as-nails MMA fighter, from the Mike Allen gym in Tralee in Shannon last Saturday (15 May).
Meanwhile, Rebecca, who moves up to the 56kg division this Sunday, has had her opponent confirmed as Maria Vittorii.
The fight card for the 'Magnificent Seven' Ireland versus Italy, run by Filippo Fusco and Christy Stringer, has been confirmed:
(1) Lindsey Doyle v Vanessa Pernacchi 
(2) Rebecca Dillon v Maria Vittorii
(3) Wilson Snoddy v Andrea Chianese
(4) George Valintini v Marco Antognac
(5) Barry O'Toole v Simone Concu
(6) Ronan MacSweeney v Maicol Tozzo
(7) Jonathan Lewins v Emanuele Bianchi 
The action is due to get under way at 7pm.
We would urge you to support this night. Not only have we got two of our own fighters competing, but it promises to be a fantastic night's entertainment. Don't miss it!