Rebecca Dillon and Richard Kiely both won again at the Ireland versus Italy fight night at the Green Isle hotel in Dublin on Sunday (24 May).
Rebecca beat Italian Maria Vittorii, while Richard got the better of Alan Coffey of Global Kickboxing Club, Ballybrack – both fighters winning on unanimous verdicts.
Rebecca, who moved up to 56kg for her contest with Vittorii, was an easy winner. She was much sharper, quicker, showed impeccable timing and outkicked and outpunched her Italian opponent.
On more than one occasion during the 3×2-minute contest, Rebecca went close to forcing a stoppage as she dictated matters from start to finish.
She also had Vittorii on the deck a number of times with some punishing foot sweeps.
Richard's timing was also a feature of his win over Alan Coffey.
Alan kept looking for the big shot but Richard's superior technique kept him out of trouble.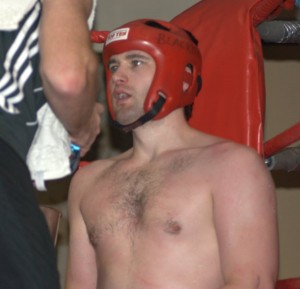 Richard (pictured in between round during his win over Alan Coffey on Sunday) finished with a bit of a flourish, too.
He caught Alan with a right hand in the final round of the 3×2-minute bout that rocked his opponent back.
Some of Richard's follow-up punches also had Alan in trouble as he made it four straight wins in a really busy recent period.
It was Richard's second victory over Alan this year.
Ireland took the honours over Italy, with only two fighters – Barry O'Toole and Wilson Snoddy – losing out in what were two very close decisions.
Black Panther head coach Norman Kelly said: "I'm happy, really happy. Rebecca and Richard continue to progress at a rate of knots. But they deserve the satisfaction that goes with winning as they take everything on board that you say. They are great listeners – and that is a big help."