Richard Kiely can't wait for the WAKO World Cup in Rimini from June 4-6.
Richard, 27, is on a real roll right now. His victory over Alan Coffey of Global Kickboxing Club, Ballybrack at the Green Isle hotel on Sunday (23 May) was his fourth win in a row, and his second over Alan this year.
Reflecting on another hugely successful bout, Richard told blackpanther.ie: "I was delighted with the win on Sunday night. I knew Alan was a very powerful puncher, but Norman had me well coached prior to entering the ring on countering Alan's favoured techniques, particular his very effective left hook.
"I stuck to the game plan he [Norman] laid out and felt I won comfortably in the end."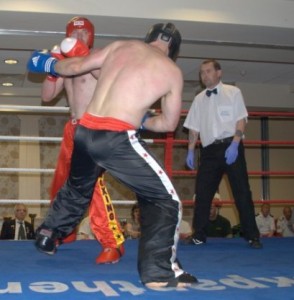 And he added: "Alan is a very experienced fighter and a former Irish champion, so I couldn't have asked for a better fighter to help me prepare for Italy."
Richard (pictured in the red head gear in action against Alan Coffey) can do no wrong as he prepares for his Italian adventure.
He caught Alan with a right hand in the final round of the 3×2-minute bout on Sunday (23 May) that rocked his opponent back.
Some of Richard's follow-up punches also had Alan in trouble as he made it four straight wins in a really busy recent period.
And Black Panther chief coach Norman Kelly acknowledged: "Richard's willingness to take everything on board is a huge help. He's doing well, because he's doing all the right things. He certainly makes my job a lot easier."
Rebecca Dillon, who also won at the Green Isle hotel on Sunday, is also going to the WAKO World Cup.
Rebecca and Richard depart for Italy on Thursday, 3 June.
Needless to say everyone at the Black Panther Kickboxing Club wishes them the very best on their travels.
* Our thanks go to Niamh Green, who took the above picture of Richard in action on Sunday. Niamh has taken a lot of the photographs you see on blackpanther.ie and we would like to express our gratitude to her. Thanks Niamh.