Rebecca Dillon finished her preparations for the WAKO World Cup in Rimini from June 4-6 with victory at the Green Isle hotel and said: "My confidence is improving all the time."
Rebecca moved up from 52kg to 56kg but took it in her stride as she ran out a comfortable winner against Maria Vittorii in the Ireland versus Italy 'Magnificent Seven' contest at the Green Isle hotel on Sunday (23 May).
There were no sign of nerves as Rebecca had it all her own way and almost forced a stoppage to again get the judges' unanimous verdict.
Rebecca (pictured below in Norway recently) told blackpanther.ie: "I knew when I got into the ring that I was stepping up a weight category, but I had trained hard with Norman [Kelly, chief instructor Black Panther Kickboxing Club] and I had also sparred with some of the heavier lads at our gym in Brookfield [in Tallaght].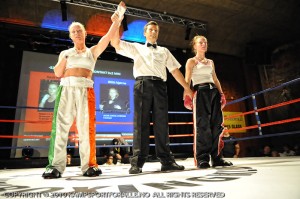 "So I knew that it wouldn't be much of a problem for me.
"I sat down with Norman and we chatted in great detail about the fight, about what I could expect and how I should approach the bout. He told me everything that I needed to know to beat this girl.
"I was aware that she was going to be strong, so I used my speed and skill to win the fight.
"I'm really happy with the way that the fight went and it has given me the confidence I need for my upcoming trip to Italy [the WAKO World Cup]."
Norman said: "Rebecca's training very hard – she's a pleasure to work with. The more fights she gets, the more her confidence grows and the international experience she's getting right now will stand to her in the future.
"She is without doubt one of the most capable fighters in Ireland at the moment, and I have no hesitation in saying that.
"She's known all over the country now, which tells you how much she is progressing."