Richard Kiely is ready for his next challenge but keen to play down his hopes at the same time.
Richard has been on a really hot streak and is unbeaten this year since his comeback to the ring following a broken elbow.
But he has his head screwed on and knows the WAKO World Cup in Rimini by the Adriatic Sea on the eastern coast of Italy is a step-up in class and an entirely different proposition altogether.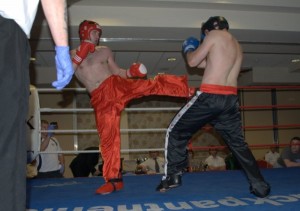 He told blackpanther.ie: "I'm looking forward to Italy. It will be a massive challenge, but as Norman [Kelly, Black Panther's chief instructor] always says: 'If you want to be the best, you have to fight the best,' so this will be an excellent yardstick to measure my progress by."
Richard (pictured far left getting stuck into Alan Coffey at the Green Isle hotel on 23 May on his most recent outing) can do no wrong right now, but he will be mixing with the crème de la crème of world kickboxing in Italy.  
He added: "I'm only back training since January after a year-long absence through injury [broken elbow], and although I have been very active the last few weeks, I expect a big jump in the calibre of opponents over there.
"I will be giving 100 per cent to win but if I don't, I know I will only come back from Italy stronger for the experience, and I will ensure that each opponent knows they have been in a fight."
Richard recorded a hat-trick of wins in the 86kg division in May – earning unanimous verdicts over Petter Solberg of Drammen Kickboxingklubb (Norway) in Oslo on 8 May, Tom Sullivan, an MMA fighter from the Mike Allen Gym in Tralee, in Shannon on 15 May and Alan Coffey of Global Kickboxing Club, Ballybrack at the Green Isle hotel on May 23.
Everyone at Black Panther Kickboxing Club wishes Richard – and Rebecca Dillon, of course – all the best on their travels to Rimini.
Here's hoping everything goes according to plan.