Just to jog your memory, in case it had slipped your mind! 
We've been asked to bring a new local initiative to your attention, and to appeal to you to pledge your support to it. 
While we would never dream of telling you what to do, we, as a club deeply embedded in the local community in Tallaght, believe it makes perfect sense. What's good for the community is ultimately good for us, too. 
Think Local 2010 is an initiative of the South Dublin County Development Board which helps create and develop community awareness of the advantages and benefits of supporting local businesses and community facilities. 
We think this initiative is quite apt as the Black Panther club, after all, considers and prides itself on being part of a 'large social family' and an integral part of the local community.
Just click on the following link to find out more: http://www.thinklocal.ie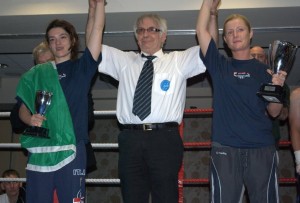 Fingers crossed Richard Kiely and Rebecca Dillon will give the sporting community in Tallaght something to cheer this weekend when they compete in the WAKO World Cup in Rimini.
Rebecca is different class and has been winning for fun recently.
Her most recent victory came against Italy's Maria Vittorii (Rebecca is to the far right of the picture) at the Green Isle hotel on 23 May. 
The very best of luck to both Richard and Rebecca who are a key part of the 19-strong Irish team competing in Italy from 4-6 June.
*Many thanks to Niamh Green for the picture.