Rebecca Dillon feels better equipped for the WAKO World Cup in Italy this weekend than she did 12 months ago.
Last year in Rimini, Rebecca was a bronze medallist in the 56kg division, losing only to the eventual winner, Tonje Sorlie of Norway.
Rebecca did remarkably well in the circumstances, as she was at a height and reach disadvantage compared to the rest of her opponents.
Also, the fact that the bouts were only over three rounds, when she had been used to fighting over five, didn't help either.
This year, she has dropped down to 52kg and all her preparations have centred on three-round contests.
That is the bad news for her opponents!
Rebecca (pictured below getting the verdict over Italy's Maria Vittorii at the Green Isle hotel last month) told blackpanther.ie: "The height and reach difference compared to the other girls last year was a big factor, and the fact that the WAKO format is over three rounds didn't help either.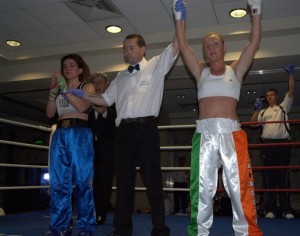 "There is a big difference between three and five rounds. Three rounds is a lot more condensed – it just didn't suit me. But that won't be a problem this time. All my preparations have been over three rounds."
When Rebecca dropped down to 52kg at the Irish Open at the Green Isle hotel in March, she emerged as the national champion in her weight category.
"While [in dropping down to 52kg] I have lost some strengths, I have gained in others. I'm definitely the better for it," she revealed.
Last year, Rebecca beat Camilla Johansen of Norway, before losing to Camilla's compatriot Tonje Sorlie, who went on to beat Georgia's Elene Bolashvili in the final. 
Who's knows, hopefully Rebecca will go one better this time and go all the way to the decider.
The very best of luck Rebecca, we're all behind you.