Ireland have no fewer than 19 kickboxers competing at the WAKO World Cup in Rimini this weekend (June 4-6) and AKAI president Roy Baker has high hopes for our own Rebecca Dillon and Richard Kiely.
Regarding Ireland's medal prospects, Roy, the top man in Irish kickboxing, told blackpanther.ie: "I would be hopeful for Rebecca and Richie. They are both developing really well and Norman [Kelly, Black Panther chief instructor] is doing a great job with them.
"We also have Elaine Small, the former -65 kg world champion, who is expected to do really well in semi-contact."
Rebecca and Richard, though, will be taking nothing for granted in Italy, as other variables can play a part in determining the eventual medal winners, as with any event.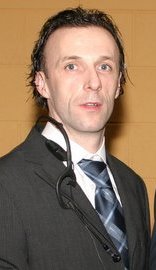 Roy (pictured left) explained: "Draw sheets are always a factor in this sport – you can be lucky and unlucky.
"In my mind, when I was competing, I did not care, as the only medal I wanted was gold. So, therefore, whether I met my main opponent in first or last round did not matter to me. It was the final outcome I was focused on, and that was gold."
Fighting on unfamiliar territory won't be a barrier to success either, according to Roy. In fact, he feels it will be a help.
He said: "No [it's not a hindrance for fighters fighting abroad]. I would say, on the contrary, especially for accomplished fighters, when at home, there is more pressure from family and friends. When away with the team, there is a mutual bond and support without the personal pressure."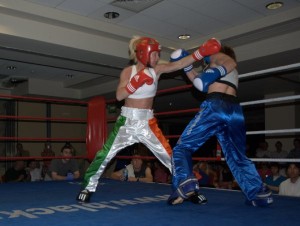 Rebecca (pictured right dishing out some punishment to Italian opponent Maria Vittorii at the Green Isle hotel on Sunday, 23 May) and Richard are among four full-contact fighters representing Ireland in Italy this weekend – Lindsey Doyle of Global Kickboxing Club, Ballybrack is one of the other two.
We also wish Lindsey, who spars with Rebecca from time to time, the very best of luck on her travels this weekend.
Lindsey is a top young talent in women's kickboxing – fingers crossed she will do extremely well this weekend, too.
Thirteen of the Irish fighters compete at semi-contact; the remaining two are involved in the light-contact category.